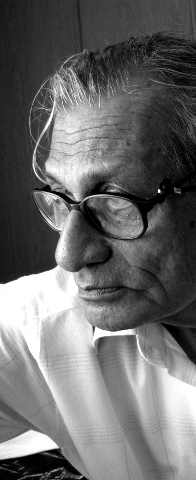 Interview with Dharamsey Bhai - Independent film historian
20/01/2015
---
1) Can you tell me about your research on the documentary film history?
My main research area, as a historian and film enthusiast, focuses on silent film history up to the decline of the studio system, after the 2nd World War. I was also actively involved with the Film Society movement from the 1960s to the 1980s. I vividly remember that in the 1960s documentaries were screened by the Films Division in the Tarabai Hall, near Marine Lines, every Sunday at 10 am.
2) What where the main political, economic and socio-cultural factors, which influenced the development of the Indian documentary film sector and films?
The documentary film was first a government decision to propagate the war message during colonial times. The Information Films of India, for instance. The 1951 Report of the Film Inquiry Committee (S.K. Patil Report) presented plans for the documentary production and, also, the first concrete initiatives for archiving films (although older reports also mentioned it, they did so without any sense of concrete action). The Government of India established Films Division in 1948. For the first decade or so, Mumbai filmmakers Sarvottam Badami, Mohan Bhavnani and Ezra Mir headed the organisation. Later, you see short filmmakers like Jagat Murari or Mushir Ahmad becoming chief producers.

However, In India, short films (often one reelers) that were known as 'topicals' or 'actualités' were being made since 1897. Within a year or two, Save Dada and Hiralal Sen were involved in these activities. Since then, maybe thousands of shorts films like topicals, sceneries and ethnographic pieces were made by well-known foreign companies as well as all the leading Indian silent studios.
3) What do you remember of the Jean Bhownagary's period in Films Division?
I knew he had come from UNESCO, and I first came across some reference to the films that he made for UNESCO. And as a spectator, I vividly remember seeing his film 'Radha Krishna'. This film is based on Kangra miniature paintings. It was the first time miniature paintings were so well used, and it has not been equaled even in James Ivory's 'The Sword and the Flute'. I was deeply impressed by how the camera moved over these paintings and how well integrated the music was in 'Radha Krishna'. I must have seen this film 7 or 8 times. Talking about James Ivory, his documentary 'Delhi Way' was greatly shot.
4) What do you know about the exhibition of documentary films in this period?
Alternative screenings were organised on a weekly basis. One week, a first run theatre would screen newsreels and the next week, it would screen a documentary, both before the screening of the feature length fiction film. The second run theatres would show older documentaries and newsreels.

I remember watching documentaries on all kinds of subjects, and more specifically on architecture, musicians and the arts... People were compelled to see these films, but their duration was fixed and the music easily recognisable, so one could easily wait outside until the screening of the feature film. Some of these documentaries were as long as 50 minutes. Some of these documentaries were also screened in film society circles. Each film would be followed by a discussion. I remember screenings of Sukhdev's, Pramod Pati's or S.N.S. Sastry's films. Some of these films were interestingly made.
5) What was the exact role and significance of private companies in the development of Films Division and the documentary film at large?
People like Paul Zils and James Beveridge played a significant role in that area. I think the interest of industrialists in documentary filmmaking has to be linked to the amateur film movement, which started earlier in the 1930s. The Society, in co-operation with the world organisation, conducted a yearly competition for amateur films. Only those in possession of a camera could enter the competition. In 1956-57, even [well-known film critic] Chidananda Dasgupta presented a film in the competition. It was that important at the time. I was the secretary of the Amateur Cine Society in the late 1960s. I later wrote an article on the Amateur Cine Society of India for the Delhi film society's 10th anniversary publication.

Most of the members of this society were industrialists, who either owned a camera and other equipments or could afford them. The Amateur Cine Society also became a place where they could meet and discuss their business activities, like any other club. So, this explains the connection between the documentary and private companies. One of the conditions to be a member of the Amateur Cine Society of India was to have a 16 mm camera and other equipment. But in the 1960s, the concept of leisure time had changed and amateur filmmaking slowly fell in oblivion. Amateur's membership became open for all and became a regular film society around 1965. 

Another society was formed at the Films Division in the 1950s, which also required a subscription to become a member. But the first major film society was the Anandam Film Society, which started in 1959-60. By end of the 1960s, there were about 20 different film societies in Bombay.
6) What information do you have concerning the conservation of these amateur films?
Most of these films are not accessible today. One has to ask questions to understand why. When we talk of film preservation during the 1950s and 1960s, when the Black & White period of was coming to an end and colour films became the vogue, preservation had become a costly affair, especially since not all films could get re-releases or profits from the market. Thus, paying for storage and preservation of films became too much of a financial liability for some filmmakers. Due to the fascination for songs in feature films, a new market opened up with the coming of television. So, one can find a number of song clippings even if the film might not be available.
7) What do you know about the influence of the British documentary film movement on the organization of FD and its films over the period 1948-1975?
For example, Marie Seton was invited by the Government of India in the mid-1950s to give a series of lectures in India. The first one she gave was at the Amateur Cine Society of India in Bombay. She had an impact on the film society movement, since she introduced us to international cinema through her lectures and articles. Film festivals, the cinema of Satyajit Ray, Ritwik Ghatak and Mrinal Sen brought a breath of fresh air and so did the arrival of Jean Bhownagary. But one of the most important events that took place then was the screening of the American experimental films, including those made by Maya Deren.
8) What was the importance of film festivals in the development of documentary cinema?
The first film festival in India was organised in 1952 by the Films Division itself, before other state organisations took over. I remember attending the event, in open maidan (open air). The films of De Sica, Rosselini and others were screened… all kinds of films, including documentaries. It was a great discovery for most of us, who were barely exposed to what was going on in world cinema before that.
9) What was the importance of the documentary film in a national context dominated by commercial cinema and from the 1970s onwards by television?
There were several independent short filmmakers. I only remember the names of B. D. Garga, Homi Shethna and Fali Billimoria. Most importantly, Satyajit Ray and  Rwitik Ghatak, later followed by Arvindan and Mani Kaul. These feature filmmakers also made documentaries, so the documentary films were never totally out of the mainstream fiction cinema.
10) Who are the most significant individual contributors to the documentary field over the period from 1948 to 1975? Why were they important?
At a spectator level, I would say that I remember subjects (such as art, tribes etc.) rather than individual filmmakers. 'Gotam the Buddha', directed by Rajbans Khanna in 1956 was a brilliant long documentary and if I remember correctly, the film was released commercially at the Metro Cinema in Bombay. K. L. Khandpur, Gopal Dutt (I still remember his documentary on birds), Kantilal Rathod, Govind Saraiya (for his film on Indian coins) and Girish Desai were my friends. We were all active in the film society movement. But I was greatly impressed by the films of Jean Bhownagary, who definitely brought change in the organisation and invited painters like M. F. Hussein and Tyeb Mehta to make films for Films Division. Both of their films were great breakthroughs, more so than the regular documentary filmmakers of the time. It was also a period when people from various fields were interested in making short films. One was Satyadev Dube, the well known theatre person, whose 'Aparichayake Vindhyachal' was a highly discussed short, though I personally found it highly pretentious. In the documentary, it was more a question of individual creativity and their contribution was often both in fiction and documentary cinema.
11) Would you say that the entire collection of documentaries produced by FD is currently available? What about privately sponsored documentaries? Who is currently holding these films?
India has a fascination for numbers, therefore this figure of 8000 titles being included in the Films Division collection keeps coming back in various publications, although nobody has ever been able to confirm this number officially. But a rough calculation would be easy to make: 100 films were made every year, 50 documentaries and 50 newsreels, this number is certain. We can calculate this figure up to 1990, when the in-house production started to drop drastically.
12) FD was never conceived as an archive, however, this mission also rests upon their shoulders. What do you think of film preservation in India and the importance accorded to the documentary within such policies?
Twenty years ago, I knew some of the main archive people, such as P.K. Nair and Suresh Chabria, who was the head of NFAI in the 1990s. During our occasional discussions, I always emphasised the need to make a copy of each of the certified film that came to them. This way they could at least get the script of the film, which can also be considered a major part of an archival collection.
13) What were the historical, political, economic, social, cultural and artistic reasons responsible for certain achievements and limitations of the documentary film over the period?
I am not in a position to answer this question, as I have no close connections with the people of FD. I remain an outsider. So, all I can do is present a low point historical point of view. No one has bothered to collect data on who was on what panel to take what decision, and this is probably what needs to be done in order to better understand the history of the documentary film in India.
- Dr. Camille Deprez (2015)