Interview with Talmiz Ahmad - Son of FD pioneer filmmaker Mushir Ahmad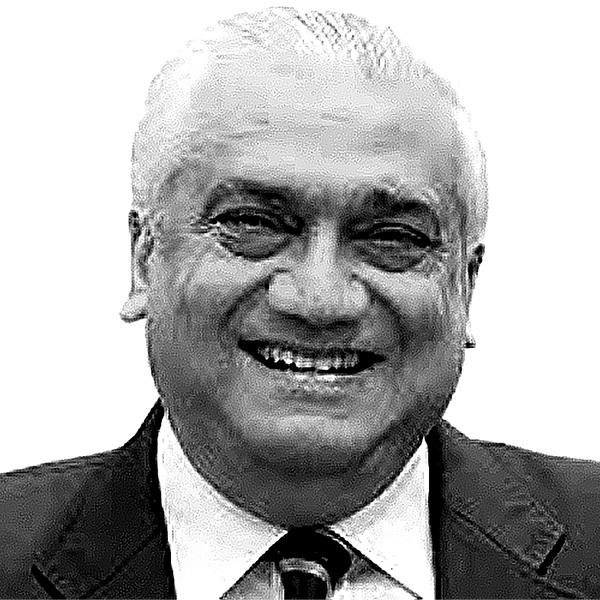 19/12/2015
---
1) Your father, Mr. Mushir Ahmad, was one of the five Indian graduates from the University of Southern California (along with K. L. Khandpur, Rajbans Bahadur, Jagat Murari and Ravi Prakash). Can you tell us why he went abroad to pursue such studies and how this particular training influenced his approach to documentary filmmaking?
My father did his Master's degree in cinema from the University of Southern California over the period from 1946 to 1948. Before that, he had no background in cinema, beyond seeing films secretly! His Bachelor's degree was in Persian language and literature. At that time, the Indian government had a scholarship scheme for young people who had done well in their university studies to go abroad to study subjects that would be important for the new independent India.

In fact, my father entering the film world was a complete accident. When my father went for his scholarship interview, he was most probably looking for a scholarship in the field of education. He arrived very late for the interview because he went to the wrong venue, because he was not from Delhi and was too shy to seek guidance. At the end, when all the interviews had been completed, he arrived at the correct place. By then, all the other scholarships had been alloted, the only scholarship left was for cinema studies. So my father had no choice but to agree to go abroad to study the cinema.

His father and most of his family members were totally opposed to his taking the scholarship and going abroad, because at that time cinema was associated with temptation and sin! But, he was supported by some progressive family members and hence could go abroad. He did the two-year course in film direction. As part of the conditions of his scholarship, upon his return, he had to work with the Government of India for five years. When he came back to India, the newly founded department called Films Division (FD) was functioning in Bombay. In the Second World War, this department was called Information Films of India. After independence in 1947, it became Films Division, as part of the Ministry of Information and Broadcasting.
2) Mr. Ahmad joined the Films Division (FD) of India in 1948 and was one of the pioneer in-house filmmakers. How did he start working with the Films Division of India and what was his mandate within this institution?
My father joined FD as a deputy director in 1948. Most of his career was with FD. In the last part of his career, in 1975, he became the head of FD for 5 years. He worked in FD from deputy director to director, and from director he became producer. When he was a producer, he left FD and went to the Film Institute of India in Pune in 1967, and worked there till 1970. He then returned to FD as additional chief producer, and became chief producer five years later.
3) How did his job with FD evolve over the years?
In the first part of his career, he himself was a film director. When I was a child, we lived in Bombay. He used to go out for shooting in distant parts of the country: at least during the first 10 years of my life, he was often away on long tours with a film crew including a sound recordist, a cameraman, and one or two assistants. There was only one location that I remember where I went with him back in1955, when he took his family with him to go to Kashmir.

Sometime in the 1960s, my father became a producer. In those days, he had 6 or 7 directors working under him. He himself did not go for shooting but supervised the work of the directors. He, as the producer, used to approve the script and the final cut. He would have a major role in the finalisation of the film. I remember that as a producer, he was more into discipline, management and planning. His films used to be very practical and do justice to the subjects.

My father was the chief producer of FD from 1975 to 1980, which was perhaps the most creative period for FD. He encouraged a large number of young filmmakers and gave them full support. The films they made won both national and international awards.
4) What was his general vision for the documentary film?
FD was a department of the Government of India, its main purpose was to inform Indian people about India. In those days, we did not have television and computers: information about the country was visually provided by films made by FD. FD used to make two kinds of films – weekly newsreels (each 15-20 minutes long), which would provide news about the previous week in visual form, and documentaries of about 10-15 or 20 minutes on certain specific themes. These were the main visual sources of information about India for its numerous and diverse people, providing images of national leaders, their speeches and plans for the country, their meetings with foreign dignitaries, their visits abroad, etc. The principal focus of the FD documentaries was to show developmental achievements, the great progress being made in different areas, provide information on complex subjects of national concern, and above all showcase the rich and diverse culture of the nation. The idea was to promote national unity in a new country emerging from the colonial yoke.

The films were made in 13 languages for many years, until the early 1980s when we had the dramatic advent of television. Until then FD used to be the principal source for the projection of the 'idea of India' across the country, particularly in small towns and rural areas. I remember once in the late 1970s, my father had organised a festival of documentary films in Bombay. The number of people who came was so large that all the tickets were sold out. I have seen the photograph of my father proudly standing next to the board that said: 'house full'!

Though most documentaries were educational and informational in content, every year a few films would have great artistic merit, and would win awards at national and international film festivals. Some of the films were even critical of the government. For example, the film made in 1967 when independent India turned 20 years old and called 'India's 67', was made by the independent filmmaker Sukhdev. It included some sharp criticism of the government. A number of other films were equally bold.

Later on, particularly when my father was the head of FD, several films were made that looked at critical issues for the nation, such as the environment, poverty, migration, castes, women, etc. My father was the producer of a film called 'They Call Me Chamar' (1980), directed by Lokesh Lalvani ('Chamar' means cobbler in Hindi and cobblers belong a very low caste). This film won the Filmfare Award for Best Documentary in 1981.

Also, there used to be a large number of tourism films, which promoted tourism within the country so that Indians could get an idea of the cultural richness and diversity of their country. They also made films on great personalities, like major singers, musicians and artists. FD had a lot of flexibility and would also allow private individuals to make films for FD. For example, the great artist M. F. Hussain made a film in 1967 called 'Through the Eyes of a Painter', which won the Golden Bear at the Berlin International Film Festival. It was a very attractive and beautiful film. Sukhdev, who made 'India 67' was also an independent filmmaker who made his film for FD. 5) Can you also tell us more about his socio-political commitments, affiliations, aspirations and how this background influenced his documentary filmmaking?
My father belonged to the generation of Indians, which is now called 'Nehruvian'. It was a generation, which had liberal values and believed in the unity of the country, in progress and in cultural diversity. Their politics was moderate and liberal, which was broadly the norm among the Indian middle classe and professionals.

He really loved what he was doing in FD and he really thought he was contributing to the national interest. When he was out for shooting for a long period of time, he had a genuine feeling that in his films he was bringing in some new and exciting parts of India to the attention of his countrymen and that he was contributing to spreading the visual image of the country and therefore promoting unity in our diversity. There was very high level of commitment to such kind of work in those days.


My father was a Muslim. I asked him after he retired whether as a Muslim he had ever been discriminated against in his professional life. He said never once had he experienced discrimination because of his religious identity. So, it was a very accommodative era in our country, an era of enthusiasm, optimism and cheerfulness, and the sense that all of them at FD were contributing to defining the national ethos and promoting understanding and progress. It was a very optimistic period. My father did not see the government of India as oppressive and authoritarian. He was a government official, he was proud to be a government official, he thought it was correct for the government to maintain a supervisory role over the work they were doing at FD.
6) What was his work method? How did he make his films and with whom?
My father was a very meticulous planner. After the subject of a documentary had been selected, he would do a lot of research on that topic. Sometimes, FD would hire an outside expert to write the script. For instance, if they were to make a film on the mosques of India, they would use a consultant who had specific knowledge about mosques. On the basis of his work, either my father himself or a scriptwriter would write the script. Then, my father would plan for the shooting. His planning was very meticulous and would break all requirements down to the last detail so that there was no wastage of time on location. At that time, they needed to carry a lot of camera and sound equipment. He usually traveled by train, with the cameraman and sound recordist.

On site, they would have someone to help them with local management, like a production manager. When my father came back, he would sit with the editor for the editing of the film. My father used to attach great importance to the editing: he thought the film was finally shaped on the editing table. In those days, film editing was a very tedious and onerous process since they had to physically cut the film and stick two pieces of film together to complete the shot and obtain the expected effect.

After becoming a producer, he still continued to direct a few films. One such film he directed in 1976-1977 was on the repair and preservation of the Buddha statues in Bamiyan in Afghanistan by the Archaeological Survey of India. These famous statues were later completely destroyed by the Talibans in March 2001.
7) Your father's film 'Magic of the Mountains' made in 1955 won the President's Golden Medal for the Best Documentary Film (India, 1956). Could you provide some background information about the production process of this film?
My father went to Kashmir in 1955 and was based there for about two months. I remember that film because, as I mentioned earlier, this was the first occasion when we, his family members, went with him on a film location. The film is a tourism film, which shows the great scenic beauty of the place. Kashmir itself is very attractive for its natural beauty, the trees, the grass, the water, the sunrise, the sunset, people who wear beautiful clothes. All of these aspects were captured in the film. The film is only about 15-20 minutes long. It was one of the best films on Kashmir at that time.
8) What do you know about the reception of your father's films by the general audience in India?
My father made so many films and had such a long career that, after some time, people began to recognise his name in the credits. In those days, the credits normally appeared in one shot either at the beginning or at the end of the film. A lot of people, even today, remember his name because of the credits. But, FD was a government institution, hence, directors did not get much opportunity to project themselves individually. There were so many films being made. Every week, a new film would be shown, every year, 52 films would be screened in cinema houses across the country. So, I would not like to say my father was a great hero figure or was recognised by the general public. Only a few people recognised his name as a filmmaker. In those days, FD had a lot of great filmmakers like Ezra Mir and Jean Bhownagary. They were much senior to my father, he respected them very deeply. My father's contemporaries, who were well-known internationally, were Mohan Wadhwani, B. D. Garga, A. Bhasker Rao, Jagat Murari, K. L. Khandpur, Ravi Prakash, Pramod Pati, S.N.S. Sastry, and Sukhdev.

Later on, when he became the head of FD, because of his interaction with film students at the Film Institute in Pune, my father was very sensitive to the needs of young filmmakers because he had seen them as students at this institute. Many of them made some excellent films for FD, the most outstanding in my view being Mani Kaul and Chandrashekhar Nair.
9) Did Mr. Ahmad work with Jean Bhownagary during his time in FD and if so, what can you say about their collaboration?
Jean Bhownagary was the head of FD when my father was starting his career as deputy director. Mr. Bhownagary is remembered for his film, 'Radha and Krishna', made in 1957, which is based on miniature paintings of Radha and Lord Krishna and includes some outstanding music by maestros Ravi Shankar and Ali Akbar Khan. I do not know much about their early relationship in the 1950s since I was very young back then. But, I know that Mr. Bhownagary was held in very high esteem by my father. He spent most of his later career with UNESCO (in Paris). I recall that Mr. Bhownargry came to FD for a short period in the mid-1960s, when he was the producer of M. F. Hussain's film, 'Through the Eyes of a Painter'. 10) Did your father keep a full list and personal record of his documentaries produced for FD? If not, why?
I do not think he kept his personal list, but FD used to have the list and published catalogues of its films regularly because it used to lend the films to schools and institutes. I came to know from a news report that FD has a programme of digitising its films. When I was young, they used to send films on 16 millimeter.
11) Mr. Ahmad was the producer of the 1975 films 'The Indian Woman' and 'The Nomad Puppeteers' directed by art filmmaker Mani Kaul. Can you tell us more about this two film projects and about collaborating with Mani Kaul?
I know more about 'The Nomad Puppeteers', as I have seen the film two or three times. Mani Kaul had high regard for my father. I would say he was a better documentary filmmaker than a feature filmmaker! He is considered one of the greatest Indian art filmmakers. His films, which were influenced by European cinema, were not audience-friendly: it is the most difficult experience for the average film audience to sit through his art films. As a documentary filmmaker, he was a genius. 'The Nomad Puppeteers' is about the puppeteers of Rajasthan. The film is so lively and contains excellent editing, very good music, all the shots are very quick, and it has very powerful rhythm. It is very attractive visually.

'The Indian woman' wasmade in 1975 because the United Nations had organised the 'year of the woman' that year. This particular film was embroiled in a controversy.  Mani Kaul held a very negative view about the status of the Indian women. My father, as the producer, said that this was not a fair assessment: while many aspects relating to women's status were negative, there were many achievements as well. He suggested that Mani Kaul show some balance in the film, but he refused to do so as it would violate his integrity as an artist! This is a unique film in that my father's name is shown as producer, but there is no mention of the director in the credits! I did not see the film, but I know of the controversy, because it was discussed at home. Mani Kaul took a very hard position saying that women are abused, exploited, and mistreated, and he wanted to show that alone, but my father said, look, we have a lady Prime Minister in our country, we have female engineers, artists, teachers and several others in good positions. You cannot say the scenario is one hundred percent negative.
12) Did he have any other connection with the Indian art/parallel cinema? If so, which ones?
I should tell you very frankly that my father was not an art cinema enthusiast: he saw himself as an educator. He would support strong themes for tough cinema, for good cinema, but he did not feel it was appropriate to spend government resources for the expression of a personal, highly individual vision. He was tough with Mani Kaul and would not compromise. 'The Indian woman' was an example. But they never lost respect for each other.

I should share with you one more experience in this regard. A noted Indian painter, Tyeb Mehta (1925-2009) made a film for FD, with my father as the producer. I think it was called 'Koodal'. They had a strong difference of opinion about one shot: Tyeb Mehta wanted to show a bull mating with a cow, perhaps as a metaphor for the sexual exploitation of women. My father said this shot was not appropriate for the general audience, because the film was going to be shown all over the country, and it would not even get the censor certification. Tyeb Mehta said he would not allow the film to be completed without that shot. My father stood firm and said he would not allow that shot to be included. I recall the hot discussions at home about personal expression versus popular acceptance, and the role of government in this debate. I think the film was screened in 1970: I think my father received the Filmfare award for best documentary in 1971 for this film!

As a filmmaker himself, my father was happy to go for hard issues, even critical of some of the developments in our country, but he would not allow the use of government resources for films that did not serve public purposes. He admired creative art filmmakers, but he did not think government resources should be used to support their personal vision that contradicted the public interest.
13) Can you tell us about your father's association with other public organisations related to documentary filmmaking, if any?
The Film Institute of India, Pune, was the only other institution where worked for a short period from 1967 to 1970. My father was the Vice Principal of the Institute and the head of the direction department. Mr. Jagat Murari was the Principal. They had very close personal friendship.

He went to Delhi in 1971-75, where he was the head of separate units of FD which made films on defense, agriculture and family planning. The office was in Delhi because, for these three subjects, they needed to work very closely with the government departments concerned. The films on defense were made for the Defense Ministry; they were training films and not screened for general audiences. Agriculture and family planning films were made for the general audience, but they were also training films: agriculture films were mainly made for farmers, not for the general circuit. Family planning films were for the field social workers who promoted family planning programmes. Thus, these were highly specialised films made for education and training purposes.
14) Has your family or any organisation kept personal papers, photographs or memorabilia of your father?
I do not have much material though my younger brother has some papers in Delhi. It is not like Mr. Jagat Murari, who has left behind a lot of material. In my family, we do not keep personal papers, we do not have this habit. We also moved a lot and very often. The papers got lost or were destroyed.
15) Can you tell more about his influence on young Indian filmmakers?
Firstly, when he was Vice Principal of the Film Institute, this is when the 'New Wave' in cinema developed in India, spearheaded by French filmmakers Godard, Chabrol, Truffaut and Bresson. This was a period when filmmakers started to question the traditional way of making films. Hence, there was a reluctance among students to study the traditional rules of cinema. My father used to say that students needed to learn the rules before they can break them, that they should study the grammar of cinema thoroughly before they can start making their own rules.

I remember there used to be a movement from the United States, called 'Underground Cinema', which used to debunk all the rules of filmmaking. Many students at the Film Institute thought they could make films like that and did not need to study cinema. My father was very strict because he realised that the underground cinema was an aberration, it was not mainstream cinema. People have to know the rules if they make mainstream cinema. He was also a strict disciplinarian. According to him, the Film Institute was an educational institution: people were coming here as students, and thus had to follow the syllabus and the rules of the Institute.

The second area in which he was particularly effective was in regard to looking after young people who wanted to make films. In those days, young people found it very difficult to get a break into the mainstream film industry, so instead he would give them a chance to make documentary films for FD. My father gave contacts to young filmmakers to make films for FD and would help them at times of personal distress.
16) Overall, what would you say constitutes his main contribution to Indian documentary cinema?
It would not be correct to personalise his contribution. I would say that my father was part of the pioneering group which had the good fortune to study cinema in the University of Southern California and to come back to serve their country for the next 35 years. The films they made were educational and informative and gave the people of India a beautiful visual idea of their country. I would say that he, along with Mr. Jagat Murari, Mr. K. L. Khandpur and many others, really laid the foundations of documentary cinema in India. They were the pioneers, they were the first generation. They were also fortunate in that they benefited from the guidance of earlier filmmakers like Mr. Basil Wright, Mr. Peter Hopkinson, Mr. James Beveridge and Mr. Jean Bhownagary. These great documentary filmmakers visited India and were able to talk to the directors about what was happening in world cinema at both the Film Institute and FD.

Overall, I think my father was part of an institution which, in the first 35 years of our national life, created a sense of India which we take for granted today. Because, when television came, FD lost its original importance. There was an explosion of TV broadcasting in 1981. My father retired in 1980 and passed away shortly after that. His regret was that FD after him had not prepared itself for the television boom. He thought FD should have reinvented itself to handle the new technology relating to television and the new way of making films.

FD has reduced its importance because it did not plan for these dramatic changes. As you know, film is an expensive business compared to television. Now, of course you have new technological developments – digital television and digital cinema. But during his career as the head of FD (1975-1980), my father presided over the best period of FD, the most creative period, with the highest output and the maximum national and international recognition.
- Evey Shen (2015)